Cochrane Community Blog
Eve Tomlinson, NIHR Network Support Fellow for the Cochrane Cancer Network presents the work completed across the cancer network to complete an exercise in stakeholder mapping.
The Cochrane Cancer Network supports the work of six Cochrane Review Groups (CRGs): Breast Cancer, Childhood Cancer, Gynaecological, Neuro-oncology and Orphan Cancers, Haematology, Lung Cancer and Urology. The CRGs in the Cancer Network provide robust evidence required to make important decisions on issues concerning cancer and related topics.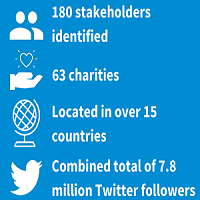 Throughout the review production process, the CRGs in the Cancer Network work with stakeholders such as patients, policy makers, health care professionals, researchers and guideline developers. Stakeholder engagement in systematic reviews helps to ensure that relevant research questions are identified and the outcomes of interest to review end-users are included. Involving end-users from target audiences can also help to improve their acceptance of Cochrane reviews. Their involvement may increase the likelihood of co-production of future reviews and lead to support in the dissemination of review evidence. This all increases the likelihood of Cochrane reviews being used in clinical decision making.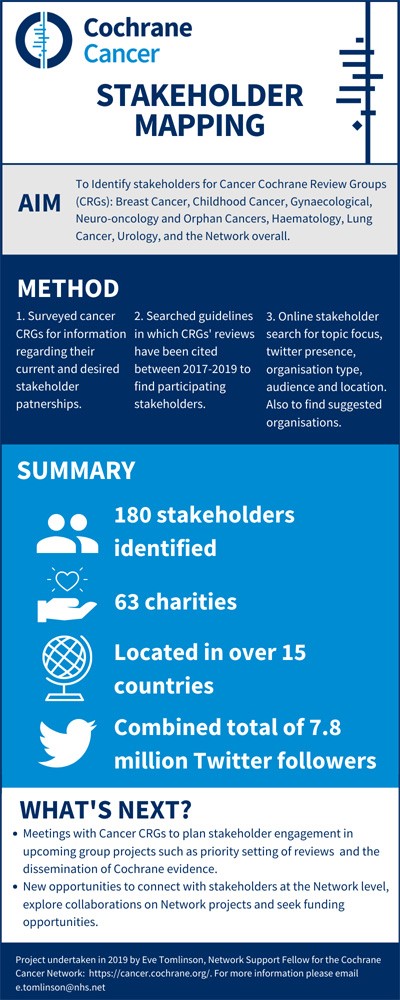 In 2019, the Cancer Network undertook a stakeholder identification project. Stakeholder engagement was highlighted as important in the Cancer Network Strategic Work Plan. In addition, Network members said that they would like to know more about other Cancer Network CRGs' relationships with stakeholders, and to think about how the Network could improve stakeholder engagement.
The project first involved surveying Cancer CRGs to find out more about their stakeholder (and funder) relationships and to share this information between CRGs. This information was then used as the basis for a mapping project to identify new stakeholders for Cancer CRGs and the Network overall. A visual summary of this project is shown in the infographic and a more detailed account of this project and our experience can be found here, written by Eve Tomlinson, NIHR Network Support Fellow for the Cochrane Cancer Network.
Through this project we identified 180 stakeholders relevant to Cancer CRGs. We plan to use the stakeholder map to inform plans to increase stakeholder partnerships in the Cancer Network. For example, two CRGs have used the stakeholder maps in the planning of a priority setting exercise. Moving forward, the Network plans to work with more CRGs to use the stakeholder maps to facilitate engagement. We will also use the Network stakeholder map and think about how we can develop strategic partnerships with stakeholders at the Network level that are beneficial to multiple CRGs in our Network.
If you are interested in getting involved with Cochrane Cancer as a stakeholder, please email Eve Tomlinson: e.tomlinson@nhs.net
June 22, 2020
The Cochrane Official Blog is curated and maintained by the Knowledge Translation Department. To submit items for publication to the blog or to add comments to a blog, please email mumoquit@cochrane.org.
The Cochrane Blog presents commentary and personal opinion on topics of interest from a range of contributors to the work of Cochrane. Opinions posted on the Cochrane Blog are those of the individual contributors and do not necessarily reflect the views or policies of Cochrane.